THIS MANUAL IS FOR FPP v1.x AND IS NOW OUTDATED.
Please follow the link below to go to the current version of the FPP manual.
The manual is also available by clicking the 'Manual' link at the top of the 'Help' menu in FPP.
---
About
Information and Statistics
This screen displays the Version details of several components of the operation system , FPP software as well as statisctics of sequences , effects , scripts uploaded or configured.
It also displays the system and disk utilisation and applicatyion uptime since the last cold start.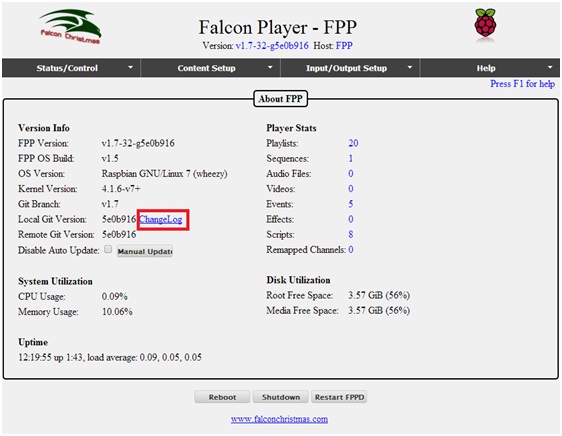 Software Updates
Whenever the FPP is rebooted or started up, the FPP checks if a 'minor update' is available and if it is, then the update will be downloaded and applied – as long as there is an internet connection available.
This screen has an option to enable a user to turn off automatic updates by Selecting 'Disable Auto Update'. If an update is available then the 'Update is available' message will be displayed next to the Git version.
Tip: When running your Christmas or Halloween show, a number of users disable auto updates.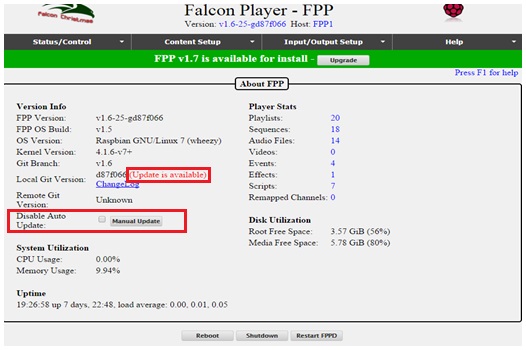 Clicking on the 'Manual Update' button will force the FPP to retrieve and apply any software updates that are available. An internet connection is required for this to be successful.
Note: Major version upgrades i.e. from v1.5 to v1.6 or from v1.6 to v1.7 will not automatically be retrieved even when Auto updates are enabled.
Such version upgrades (when available) must be applied by Clicking on the 'Upgrade' button that is part of the Green banner at the top of each screen.
Change log
Clicking on the link will display the software change log.