THIS MANUAL IS FOR FPP v1.x AND IS NOW OUTDATED.
Please follow the link below to go to the current version of the FPP manual.
The manual is also available by clicking the 'Manual' link at the top of the 'Help' menu in FPP.
---
FPP Backup
This screen enables you to backup configuration data. You can also use it to restore configuration data that has been previously backed up.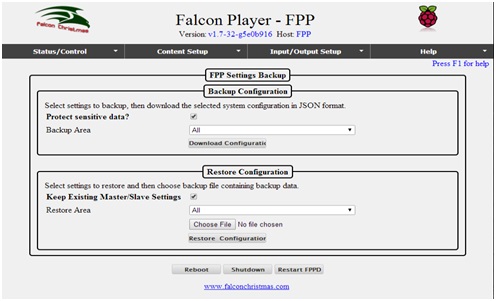 Creating a Backup
Select which settings you want to backup (Backup Area). If the Protect sensitive data is checked, then sensitive data such as passwords are not copied. Un-check if you wish to make an exact backup – on which case sensitive data such as passwords will be backed up but in plain text.
Note: Sequences, audio and video are not backed up.
Tip: Normally, select 'All' to ensure that all your configuration data is backed up.
Then click on Download Configuration. You will be prompted for a location to save the configuration (e.g. on your connected computer drive).
A time stamped JSON file will be created in the specified location (e.g. FPP1_all-backup_20151129130711)
Restoring a Backup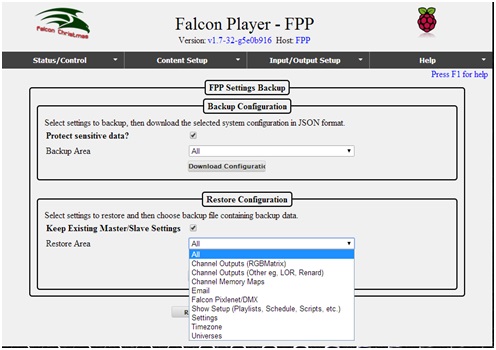 Select an area to restore, select the backup file by clicking on the Choose file button, and optionally select the area you want to restore.
Keep existing master / slave settings: The default is checked to prevent accidental changing of existing master / slave settings. In which case the settings on the device you are restoring to will not be overwritten.
Tip: You can also use the backup and restore function to copy configurations to another FPP instance and then amend as required.